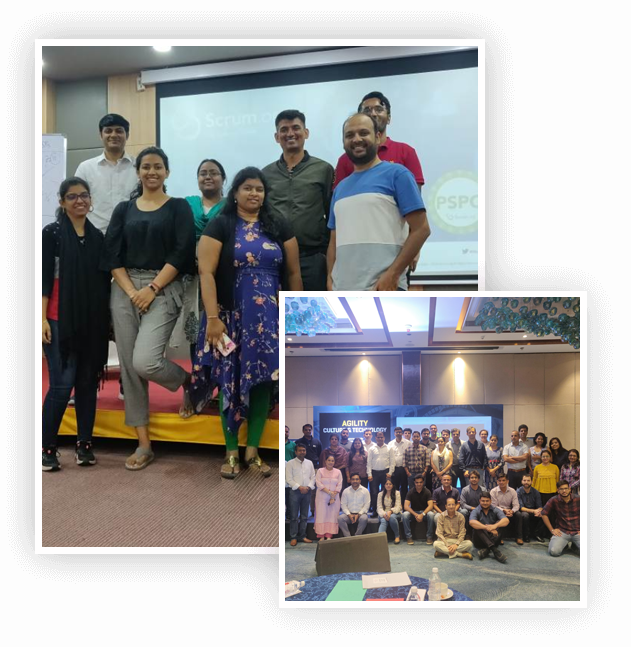 About Agile Wow
Welcome to AgileWoW, a beacon of empowerment in Innovation, Leadership, Agile, and Scrum. For over a decade, we have dedicated ourselves to unlocking the latent potential within individuals and organizations, guiding them toward achieving unparalleled success.
Our journey is anchored in a profound belief: within everyone lies the seed of greatness, waiting to be nurtured. This philosophy is the cornerstone of our approach as we endeavour to impart essential skills and kindle a lifelong zeal for learning and self-betterment. Our team, comprising experts in Innovation, seasoned Leadership coaches, Agile enthusiasts, and Scrum masters, brings a wealth of knowledge and experience to our diverse training programs.
At AgileWoW, we specialize in cultivating leaders and innovators who can navigate the complexities of today's fast-paced world. Our training modules are carefully crafted to address the evolving needs of our clients, integrating cutting-edge educational technology with interactive, experiential learning sessions. We excel in transforming theoretical knowledge into practical, real-world skills.
Our Leadership programs are designed to forge visionary leaders who inspire change. In our Innovation workshops, creativity meets practicality, empowering you to become a catalyst for transformative ideas.
Agile and Scrum training sessions are tailored to instill flexibility, efficiency, and a collaborative spirit, essential in today's dynamic work environments.
We believe that learning transcends skills acquisition; it is about sparking new ideas, building networks, and fostering a relentless pursuit of personal and professional growth. Our alumni, a testament to our impact, are influential change-makers in their respective fields.
Embark on your journey of discovery and transformation with AgileWoW. Let's harness your potential and shape a future marked by excellence and innovation.
Learning, Training, Coaching We help Individuals & Organizations becoming Agile with our custom Training programs
Our Clients